ECO 4T SAE 30
ECO 4T SAE 30 is a premium quality, fully synthetic four-stroke engine oil for high performing engines of small gardening and agricultural equipment requiring SAE30 oil specification. ECO 4T SAE 30 contains modern enhancing agents (oxidation and corrosion inhibitors, detergent-dispersant additives) and offers excellent lubrication properties as well as improved engine wear protection. ECO 4T SAE 30 is an environmentally friendly alternative to the usual petroleum based products.
Industry Performance Standards
Areas of Application
ECO 4T SAE 30 is specifically designed for lubrication of 4-Stroke petrol and diesel engines, high-speed small gardening, agricultural and municipal equipment (lawn mowers, ride-on mowers, small tractors, snow blowers, generators, motor pumps, etc) requiring the use of SAE 30 oil grade.
Characteristic features
Excellent lubrication to all moving parts of highly stressed modern four-stroke engines;
Improved performance and engine wear protection;
Easy start at low temperatures;
Inhibits high-temperature deposits and low-temperature sludge;
Protection against rust and corrosion even during shutdown period;
Extra cleanliness of internal engine parts;
Environmentally friendly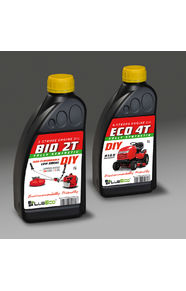 I am interested